Meet co-founder Andy Morris. Born in Fayetteville, North Carolina. Educated at Appalachian State University and the University of South Carolina. Follow him on Twitter at @andymorr.
Are you Hook or Blade?
Well, neither one of us is Hook or Blade. BUT, if I was going to be one of them, I would definitely be Blade. Because why wouldn't you want to be this guy: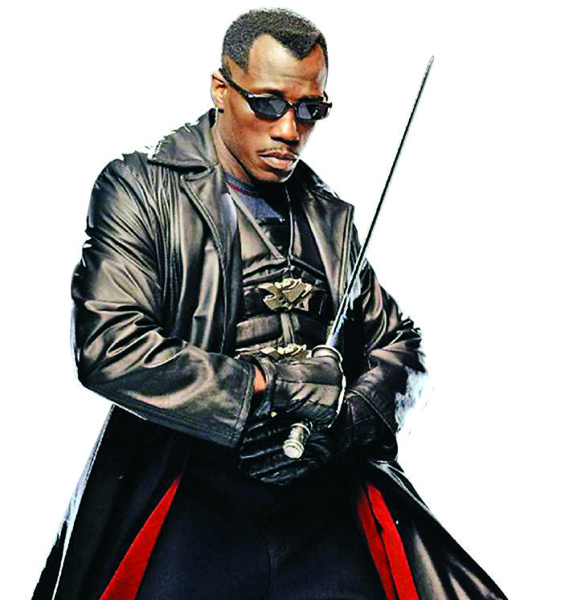 What do you enjoy most about working in the digital space? 
I've always been interested in technology and grew up reading and watching science fiction (Ed. note: nerd!). At a job several years ago, I became the de facto "web guy" because no one else was interested in learning about new tools such as Facebook and Twitter for marketing. My interest in the space grew from there. I think that digital's ability to provide accurate measurement and analysis of a campaign is what separates it from most traditional marketing methods. In addition, the ever-changing nature of the digital arena means you always need to keep reading and learning to maintain your knowledge and stay on the cutting edge.
Favorite social network?
I joined Twitter in 2008 and have been obsessed with it since the beginning. I've made friendships through Twitter and grown my personal and professional brand. It seems like I learn something new every day from the users I follow on Twitter. My newsfeed is very diverse and includes sports writers, digital marketers, friends, family, professional connections, comedians and news organizations. There are days when I'll start scrolling through and look up and realize I've been on Twitter for almost an hour without blinking.
Best sites for news and time-wasting?
My go-to websites for reading news and also killing some time are The Verge, The Next Web, The Guardian's soccer coverage, Twitter and Instagram.
Top three bucket list items?
1) Attend a World Cup
2) Travel to every continent (3 down so far – North America, Europe & Africa)
3) Drive across the United States and back
What is one aspect of digital marketing that businesses can improve upon?
Very few businesses and organizations have mastered the art of content production. Whether it's longform written content, videos (short and long), infographics, podcasts or even photography, there's always room for improvement in reaching your target audience through content. I think many businesses, especially small businesses, fail to realize how they can be a content provider.
Biggest challenge about marketing in today's marketplace?
One of the biggest challenges about marketing, especially in the digital space, is the inescapable fact now that it often takes some money to grow your voice and market share. Facebook's diminishing organic reach for brands means you usually need to put a little bit of budget behind your posts to make sure they are seen. Spending a bit of money on a display campaign can help raise your brand awareness and fill the top of your sales funnel.
Favorite ad campaign?
Even though I'm only a casual hockey fan (go Bolts!), one of the most memorable campaigns in recent years for me is the NHL's "History will be Made" series. The campaign featured prominent playoff moments in NHL history and connected with fans emotionally. Even though I didn't know much of the history behind the specific moments, I found myself getting chills from certain videos. The campaign is also a fantastic example of effective crowdsourcing as the league made the music and elements from the commercial available for fans to download and create their own spots. Over 2,400 fan created commercials were made, resulting in over 8 million views on YouTube.
Honorable mention goes to one of my favorite soccer commercials ever – Nike's Good vs Evil. Can you beat Eric Cantona's collar flip and "Au Revoir" before firing a goal past Satan?
Favorite quote or piece of advice?
I'll share two because I can't decide.
"Passion has a funny way of trumping logic." – Not sure who said this first, but I heard it a few years ago from this fantastic Versus commercial. I've always felt inspired by this particular quote because I think it relates to how I live my life. The path I've taken to pursuing this career might not have always seemed logical to some people, but I believe I've been successful due to my passion.
The second one is from one of the most interesting documentaries I've seen: Man on Wire. 
Life should be lived on the edge of life. You have to exercise rebellion: to refuse to tape yourself to rules, to refuse your own success, to refuse to repeat yourself, to see every day, every year, every idea as a true challenge – and then you are going to live your life on a tightrope.
Athletic allegiances?
I'm a massive soccer fan and support Liverpool FC and the U.S. Men's National Team. Two of my favorite trips ever include seeing Liverpool play in person at Anfield and seeing the US team play Mexico in a World Cup qualifier in Mexico City. Outside of soccer, I'm an App State Mountaineer and a South Carolina Gamecock.